Ingredients
Eggplants

– 4 lb (1 ¾ kg)

Bread Crumbs

– 7 oz (200 g)

Hot Pepper Flakes

– ½ tsp

Dry White Wine

– ¼ cup (60 ml)

Canned Tomatoes

– 3 ½ lb (1 ⅔ kg)

Olive Oil

– 1 ½ cups (350 ml)

Water

– 1 ½ cups (350 ml)

Ground Black Pepper

– 1 tsp

Wheat Flour

– 7 oz (200 g)

Mozzarella

– 14 oz (400 g)
Recipe
In Italy, eggplant is used in many recipes. One of the most famous dishes is eggplant parmesan. It's quite difficult to perfectly bake this vegetable with cheese and tomato sauce at home. But today we're going to reveal all the secrets of this delicious dish and help you make the best eggplant casserole.
The sauce for eggplant parmesan must be baked in the oven to make it low-moisture. It is also important to remove excess liquid from the eggplants. For that you need to put them under pressure. Also try using panko instead of regular bread crumbs for more airy texture.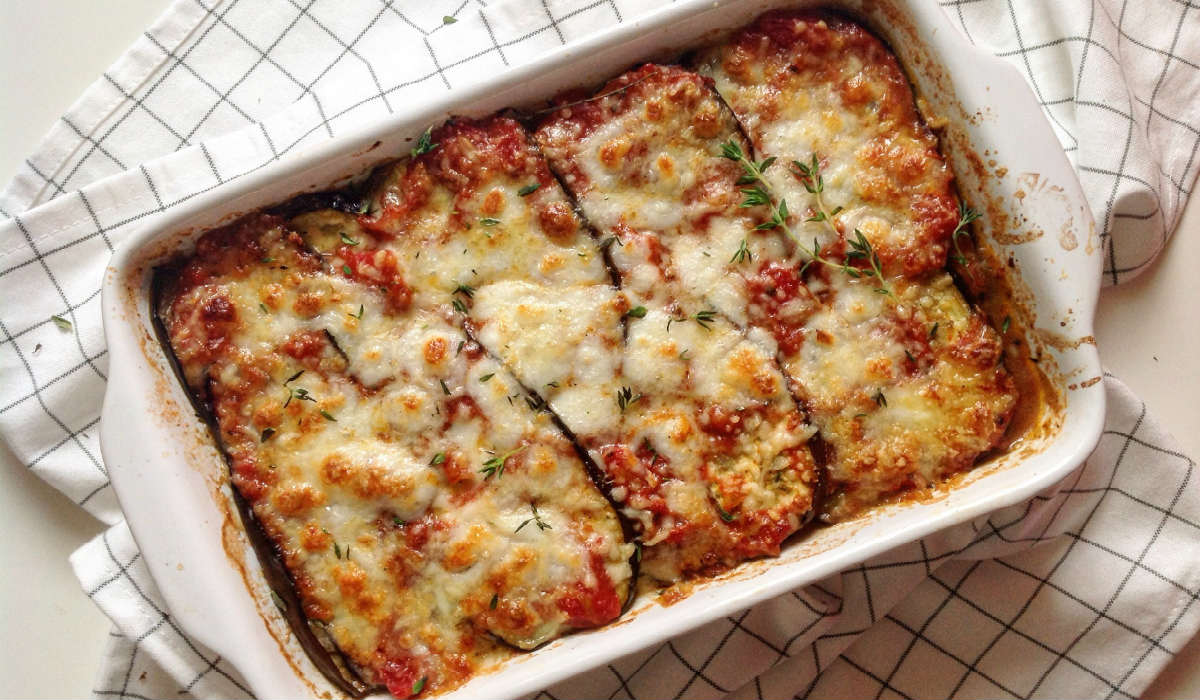 Steps
| | |
| --- | --- |
| | Heat ¼ cup (60 ml) olive oil in a heavy-bottomed saucepan. Fry peeled garlc cloves for 4 minutes. Cut an onion into half rings and add in, add pepper flakes. Cook for another 5 minutes, stirring frequently. |
| | Add tomato paste and simmer, stirring continuously, for 2 minutes. Pour in the wine and bring to a boil, then cook until the liquid is almost evaporated. |
| | |
| | |
| | Peel the eggplant and cut lengthwise into ⅓-inch (10 mm) thick slices. Season with salt. Spread paper towels in several layers on a baking sheet. Lay a layer of eggplants on top, then the towels again. Continue until you run out of eggplants. Cover with the towels and another baking sheet. Add any weight on top. Set aside for 1 hour. |
| | |
| | |
| | Grate 6 oz (170 g) of dry mozzarella, mix with chopped parsley and basil, add the rest of the grated Parmesan. |
| | |
| | |
Try to find a baking dish large enough to fit all the eggplants in three layers. Then the Italian Parmigiana will be the most delicious. Don't rush to cut the hot casserole, let it cool. It will be much easier to cut.