Ingredients
Wheat Flour

– 7 oz (200 g)

Ground Black Pepper

– to taste

Hard Cheese

– 7 oz (200 g)

Cream Cheese

– 9 oz (255 g)
Recipe
Homemade crepes are a staple recipe to build on. You may already know that we are constantly looking for fresh ideas to cook this simple yet yummy dish. This time, it is not enough for us to merely stuff our crepes with filling and call it a day; we decided to experiment and bake them in the oven. Here's what came of it: a delicious crepe casserole with a bright chicken, corn, and tomato flavor.
One glance is enough to know that this dish tastes heavenly! Be sure to serve the chicken casserole hot because half the enjoyment is the stringy cheese on top and the soft cream cheese inside.
The best thing is that this truly family-friendly crepe casserole does not require any sauces and side dishes — it is perfect as it is.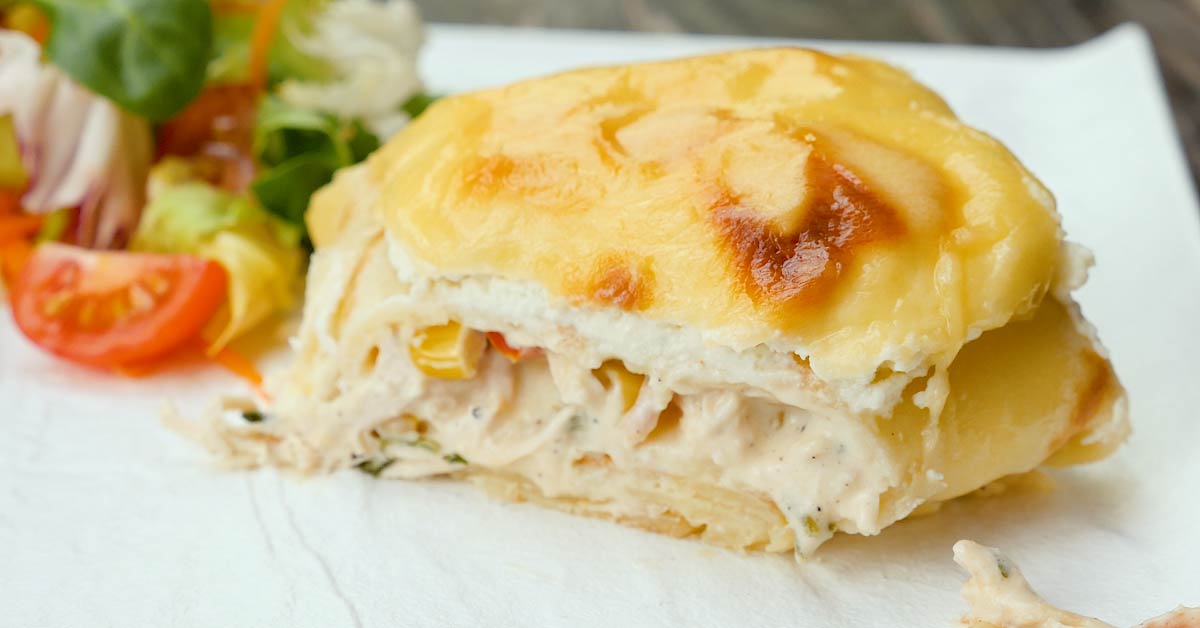 Crepe casserole turns out satisfying and even festive, when, in fact, it features pancakes with filling, warmed in the oven. To bring this pancake dish to its full potential, you don't need much: only a few leaves of green basil. By the way, you can use fragrant hard cheeses or tender mozzarella to make the crust even more stringy. We wish you inspiration and hope you enjoy this recipe.