Ingredients
Dark Chocolate

– 9 oz (255 g)

Powdered Sugar

– 2 oz (60 g)

Wheat Flour

– 4 ⅓ oz (125 g)
Recipe
A simple chocolate pear cake will make your spring delicious. A porous soft sponge, pears under a thin layer of jelly, and lush chocolate cream — see if you can resist going for seconds!
For this delicious dessert, take the best quality dark chocolate, containing at least 70% pure cocoa content, and use a cream with a fat content of 33%. Also, make sure to select hard-ripe, fragrant pears.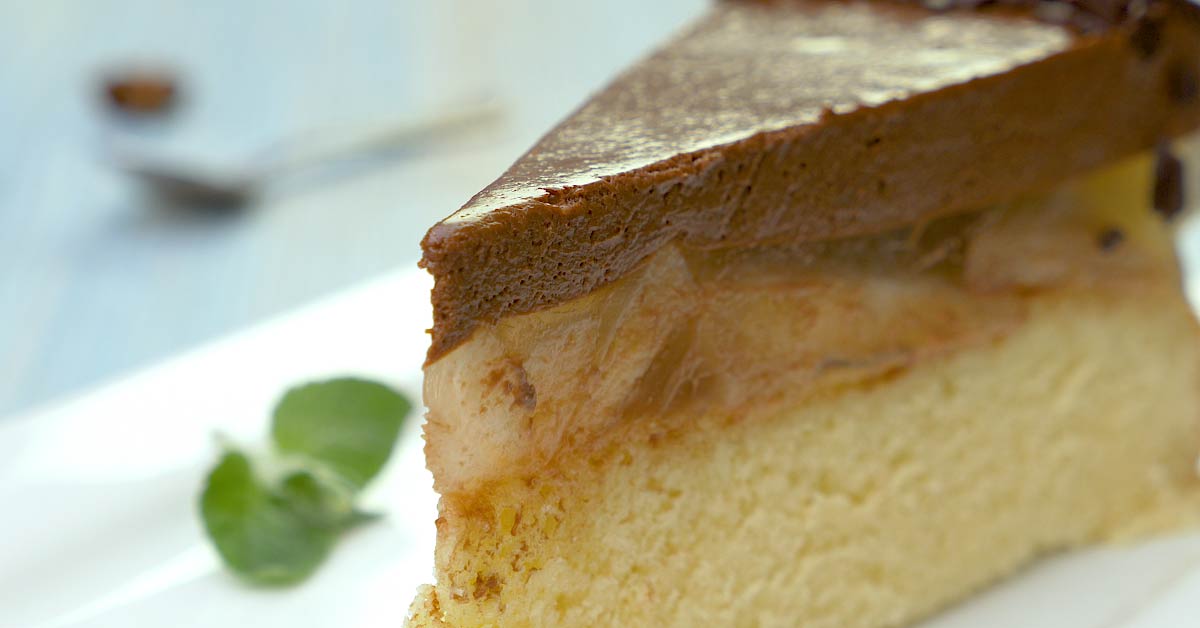 Steps
| | |
| --- | --- |
| | |
| | |
| | |
| | Peel the pears, cut them into slices, and put in a ceramic bowl. Sprinkle 2 tablespoons of sugar and add ⅔ oz (20 g) of butter. Place into the preheated oven or microwave for 5 minutes, then let cool. |
| | Place slices of pears on the baked sponge cake in the mold, pour the liquid with pear juice and gelatin on top and refrigerate for 1 hour and 30 minutes. Add sugar and warm over medium heat until gelatin completely dissolves, pour in the rum. Let cool, strain, and pour the syrup over pears. Put in the refrigerator until it hardens. |
| | Beat 4 egg yolks with powdered sugar until light and fluffy. Whip the egg whites until firm. In a separate container, whip cream until solid peaks. Melt chocolate over a pan of simmering water and combine with the yolk mass, add 1 teaspoon of rum, whipped cream, and at the very end — egg white foam. Mix gently with a spatula. |
| | |
The cake seduces with its tenderness and taste; the combination of pears with chocolate cream is delectable. At the same time, it is not difficult to make and perfectly complements your morning coffee!