Ingredients
For the Ranch Sprinkle

For the Biscuits

For the Ranch Butter

Butter

Cultured

– 8 oz (225 g)
Recipe
Ranch lovers unite! This swoon-worthy recipe for ranch biscuits is loaded with ranch flavor. It features a trifecta of ranch dressing-infused buttermilk, homemade ranch seasoning sprinkle, and divine ranch butter to slather on them once they're out of the oven.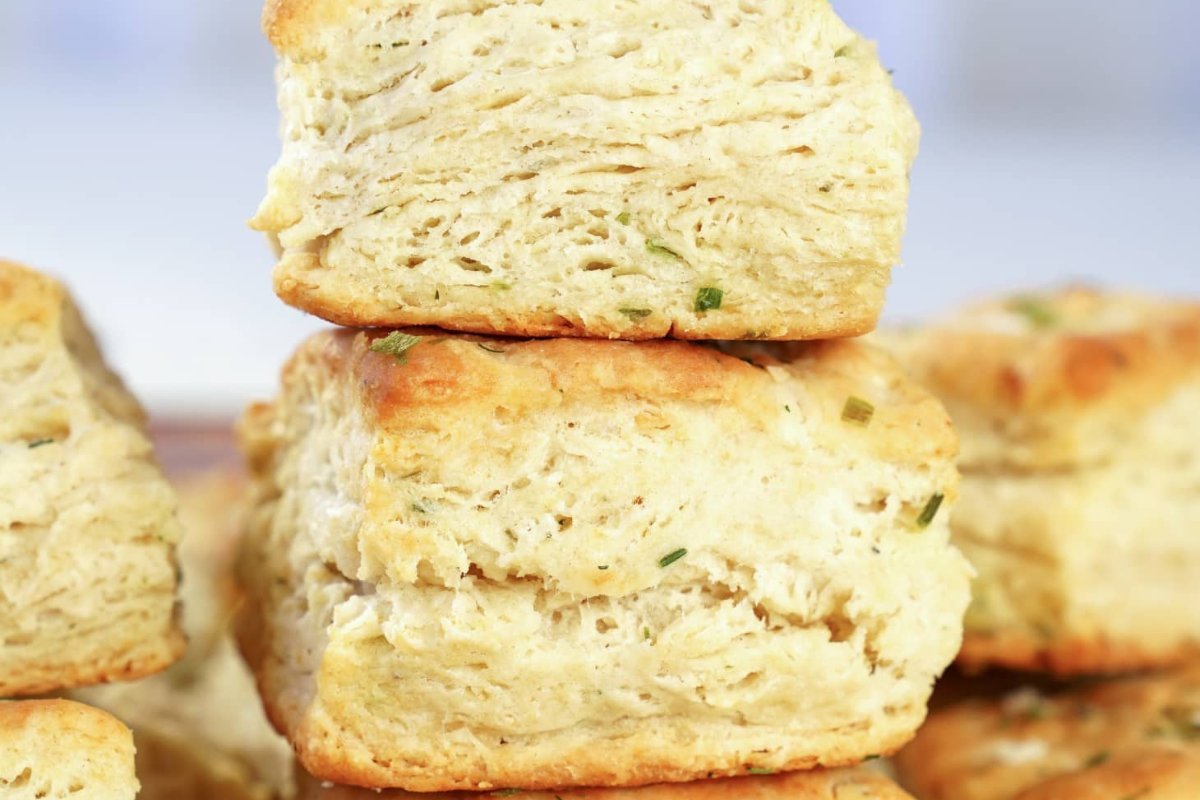 The secret to tall and flaky biscuits lies in the cooking technique. This recipe calls for using grated butter and several folds to form numerous interlocking layers. Packed with flavor, these pastries are great for a festive meal or dinner any day. The big batch of these fun ranch biscuits will be perfect for the whole family. Without further ado, let's get into the recipe!
Steps
Set a rack in the middle of the oven and preheat the oven to 425 °F. Line a rimmed baking sheet with parchment paper. Let cultured butter soften at room temperature.

Prepare the Ranch Sprinkle

Combine dried chives, onion flakes, garlic powder, and dried dill in a bowl; set aside.

Prepare the Biscuits

Mix flour, baking powder, baking soda, and kosher salt in a large bowl. In a separate bowl, whisk together cold buttermilk and ranch dressing.

Grate half of the butter on the coarse side of the grated. Incorporate it into the flour mixture until only little lumps of the butter remain whole.

Grate the other half of the butter, add it to the flour mixture, and toss to combine.

Make a well in the center of the dry mixture, then gently pour the buttermilk mixture inside. Stir with a wooden spoon until a dough that pulls away from the sides of the bowl forms.

Transfer the dough to a surface lightly sprinkled with flour and flatten it into a 1-inch-thick rectangular shape with a shorter side closer to you. Sprinkle half of the ranch sprinkle on top. Fold the dough in half toward you, then flatten it into its original shape again. Repeat with the folding and patting, alternating folding from each side, the bottom, and the top until you have done eight folds.

Shape the dough into a ¾-inch thick 9x13-inch rectangle and cut it into 12 squares. Arrange the squares on the baking sheet in a way that they touch each other but not pan. Sprinkle with 2 teaspoons of the ranch sprinkle.

Prepare the Ranch Butter
Oh-so-easy and oh-so-tasty, these ranch biscuits are the ultimate savory side. We're beyond excited for you to try them! When you do, please share your feedback in the comments. Happy cooking!