Ingredients
For the dough

Wheat Flour

– 3 cups (375 g)

Butter

Cold, unsalted

– 6 tbsp

Buttermilk

Well-shaken

– 1 cup (240 ml)

For the filling

Butter

Room temperature

– 8 tbsp

Brown Sugar

Light brown

– 6 tbsp

Nutmeg

Freshly grated

– ¼ tsp

For the sauce

Condensed Milk

– 14 oz (400 g)

Milk

Half-and-half or whole

– 2 cups (480 ml)

Powdered Sugar

– ¾ cup (90 g)
Recipe
Are you a fan of cinnamon rolls just like us? Well, they sure are delicious but sometimes you just want to make something less complicated. A recipe that requires no dough rising. That's when these Southern butter rolls will come in handy. The flaky dessert made with biscuit dough and baked in delicious bubbling custard will leave nobody indifferent.
If you're looking for the ultimate indulgent treat that doesn't require a lot of effort this old-fashioned butter roll recipe is just what you need. The recipe is also great for those times when you need to use up leftover biscuit scraps.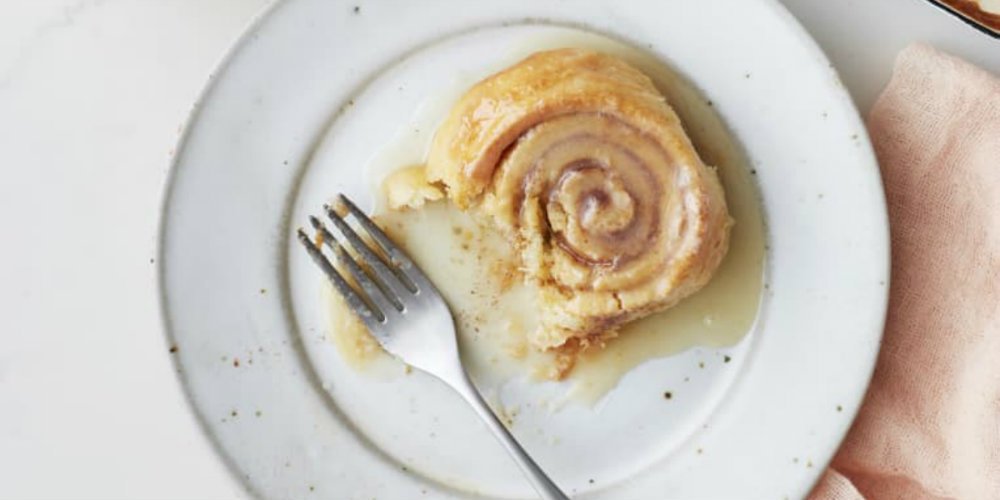 Steps
Preheat the oven to 350 °F (180 °C) with a rack inside.

Prepare the dough

Pour the flour, sugar, baking powder and salt into a big bowl and combine with a whisk. Add small pieces of the cold butter to the mixture and combine everything with your fingers until the breadcrumb texture. Pour in the buttermilk (or whole milk). Stir with a fork to form a soft dough.

Prepare the filling

Combine the brown sugar, ground cinnamon, grated nutmeg and salt in a small mixing bowl.

Prepare the sauce

Take a medium-sized saucepan. Pour the condensed milk, whole milk (or half-and-half), powdered sugar, unsalted butter, and salt in it. Place it over medium-high heat. Lightly stir until the sugar is dissolved. When it starts to bubble remove the saucepan from the heat. Add in the vanilla extract and stir. Pour the sauce over the rolls.

Bake the dessert from 40 to 45 minutes. The rolls should be golden-brown and the sauce bubbling and resemble caramel. Let the dish cool a little and serve to the table.
This no-yeast butter roll recipe is so decadent it's hard to believe that it's so easy to make. Do you have favorite Southern recipes? Feel free to leave your comments below!